Review from the 2004 NAB Exhibit on Portable Desk Mixers:
The highly acclaimed Cooper 208v2 was displayed in its latest configuration. Refinements include: eight channels of high quality A-D outputs with all the needed sampling freqs, balanced direct outputs from each input, enhanced channel routing, and enhanced monitor section. The result is a very solid, very user-friendly field mixer that is arguably the best sounding and most power-efficient of its class.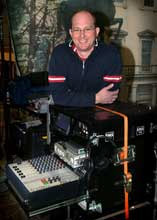 Photo: Alastair Widgery on set with his Cooper Sound Systems CS 208 V2 mixer and Nagra V location hard drive recorder.
Thu - 6th May 2004 Cooper Sound Cs 208 V2 And Nagra V Combine For Life In Film
Nagra Kudelski (GB) Ltd. has recently supplied a Cooper Sound Systems CS 208 V2 eight channel portable audio mixer to sound recordist Alastair Widgery, for integrated use with his NAGRA V location hard drive recorder. The rig is being used to record the forthcoming BBC series, 'My Life In Film'. Widgery states that "the CS 208 has set a new benchmark for the rest of my gear. My aim has always been to get a Cooper Sound because of their reputation for making the best location mixers. Proven reliability is essential and a full, warm sound makes for much better end results." The NAGRA V's transport is being run via one of the CS 208's two, fully independent 'Remote Roll' switches - providing an integrated solution that delivers the ultimate in location sound: "All I have to do is power up in the morning and after that there's no reason to touch the NAGRA V... other than to take the hard drive out for post," explains Widgery. "I've noticed a quantum leap in sound quality and believe that the combination of the analogue Cooper and digital Nagra gives me the best of both worlds." The Version 2 CS 208 incorporates improved monitoring facilities, faster acting onboard limiters and a more flexible bus assignment capability. Widgery is convinced that he's found the unit he needs: "You only have to use it for a few minutes to realise that Cooper Sound has spent the money in the areas that really matter; faders, mic amps, transformers - all the audio components. The CS 208 V2 is easily living up to my expectations and the current dollar exchange rate means that it was the ideal time to take the plunge!"

International Flavour to Surreal Feature with Classic Analog Sound...a Cooper Sound CS104 4-channel mixer offered renownedaudio quality in a compact and lightweight combination, "The equipment had to be compact and having it all in one bag was essential. I've been using the Cooper Sound mixer for five years now and I can't fault it in any way...Read More