For use with CS 104, CS 106/108 & CS 208 audio mixers.
Specifications:
Universal input: 90-260 v AC (50-60 HZ)
Ouput DC: 15 v at 1.6 A max.
Size: 5.30" x 3.55" x 1.85"
Weight: 1.2 lbs.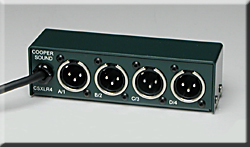 4 T HRS-XLR Interface
12 Pin Hirose Connector to 4 XLR Connectors
For use with the CS104 with the CS4T, Direct Out Option, Installed
Size: 5.1" x 1.5" x 1.45"
Includes case, accessory pouch & strap.s
Flaps, clear vinyl windows and protective coverings provide access to cable openings, batteries, dials and switches.

The mixer case is one important component to the audio package.
The other components are: the RM-MULTI or RM-DELUXE wireless microphone case and the shoulder strap. These solve the needs of most audio crews.
An optional AUDIO HARNESS/BELT combination helps provide additional stability and weight distribution.
To Order:
Portabrace/K & H Products Ltd.
Box 249
North Bennington, VT 05257 USA
Telephone: 802-442-8171
Fax: 802-442-9118